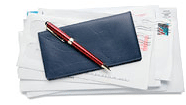 Bill consolidation is also known as debt consolidation, and it is essentially when all of your credit card bills and other unsecured debts are combined into one convenient payment. Along with the convenience, your payments are drastically reduced along with other benefits which we'll cover below.

It's important to know that the bill consolidation services that American Debt Solutions™ provides are NOT a loan. Many companies will push the idea of creating a bill consolidation loan in order to combine your payments, but this is definitely not the best way to go. In order to lower your interest rates with a loan, the repayment period is drastically extended. This means that you'll actually be in debt longer, and usually paying more in the long-run!

With the American Debt Solutions™ bill consolidation program on the other hand, our solid relationships with creditors can help you drastically lower your payments. The thing is, your creditors don't want you to file for bankruptcy, so they'll go to great lengths in order to keep you paying (even if it's much lower).

This proven program (that has helped millions of people) not only creates a manageable payment plan that combines all of your bills into one easy payment. You'll realistically be able to pay off your debt in a handful of years as compared to potentially decades if you continue simply on your own. Also, don't worry if you have bad credit. With this bill consolidation program, it doesn't make a difference!

With the American Debt Solutions™ bill consolidation program,
you will:
| | | |
| --- | --- | --- |
| | | Pay less per month: By negotiating with your creditors, we can drastically lower your payments and interest rates (the average is -57%, but in some cases the interest may even be eliminated!) |
| | | Have an easier time paying your bills: All of your credit card bills and other unsecured debt will be consolidated into one easy payment per month so you'll no longer have to juggle multiple bills. |
| | | Pay off your debt faster: By creating a manageable payment plan with reduced payments and other benefits (waived late fees), you'll be able to conquer your credit card debt in only a handful of years compared to potentially 15+ years on your own. |
| | | Know exactly how much you are saving: With our unique online interface, you can see detailed reports of the progress you are making on your credit card payments, how much you are saving per month, and much more. |
| | | Get the service you deserve: With American Debt Solutions™, you will always be treated with respect, care, and compassion. |
"How to Get Your FREE Quote and Consultation to Start Becoming Debt Free Right Now..."
| | |
| --- | --- |
| If you're ready to take action against your debt and start your journey toward achieving financial freedom with bill consolidation, simply fill out out the form below: | Daily Testing |